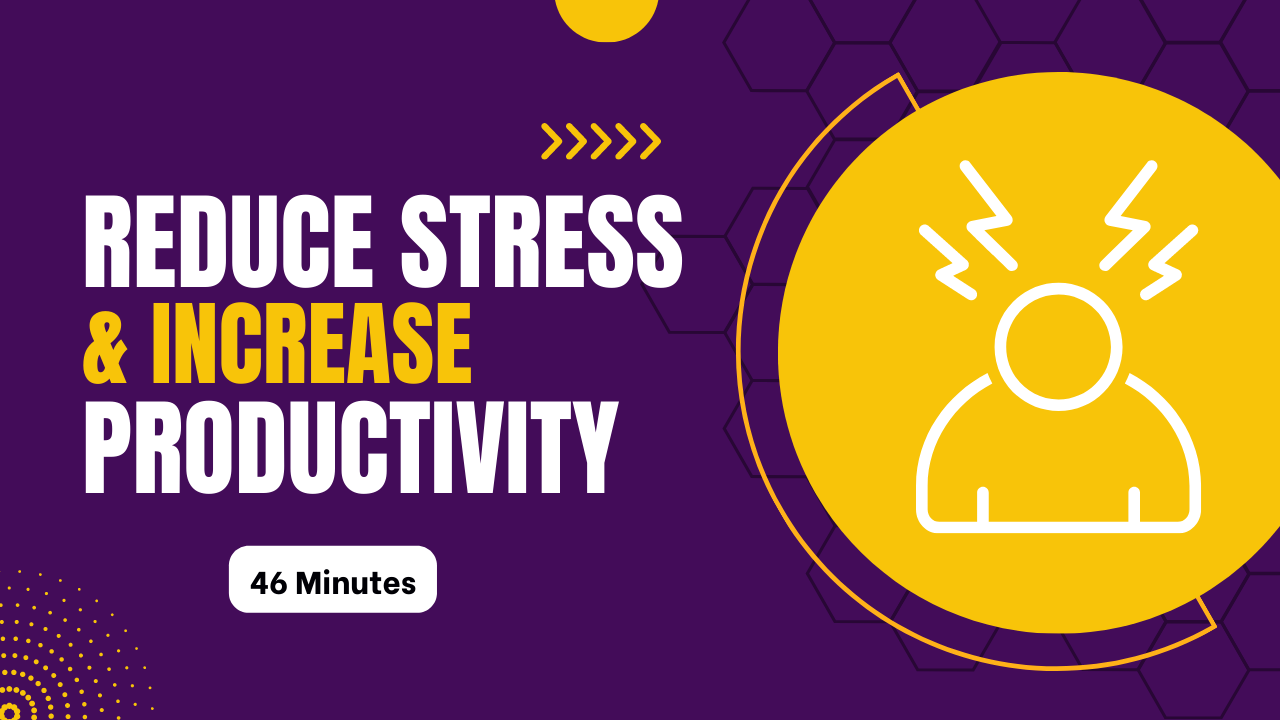 Reduce Stress & Increase Productivity
46 Minute Course - Broken Down Into Two Modules
Stress is not just an inconvenience – it can actually kill you, so you will learn more about how to manage your stress. You will get tips on how to reduce some of the chaos in your life and recharge your batteries in order to keep you productive. You will learn a technique called the "Sprint and Rest Method" that will help you get the most out of each day and not burnout. It is important to understand how to bring balance to your life, and to keep your personal and professional life in perspective. You will get tips that you can begin using immediately to minimize the stress in your world. Certificates of Completion are provided for everyone the completes the course.
Here is What Clients Are Saying
"Brad brings a unique level of personal understanding and motivation to the Tulalip Resort Casino. He has proven to be a key success factor for us over the past five years His focus on the importance of developing strong leaders within an organizations, and helping them achieve their full potential has made us a much stronger operation. His service training and real life examples of service excellence have helped us to remain the market leader in the Northwest. His sense of humor and approachable style creates a learning environment where individuals are more open to changing behaviors that impede their growth. He helps individuals across the organization understand what really makes them tick. His material is always on target and he has been a wonderful resource for us in so many different ways. He has a great way of quickly gaining the participants trust and can always be counted upon to help them achieve both their personal and professional goals."
Ken Kettler, President & COO, Tulalip Resort Casino
"When we engaged Brad to help us launch a new guest service program several years ago, we knew we were working with a high-level motivational speaker, but we weren't yet aware of the lasting impression he would leave on our organization. Brad infuses his presentations with humor, anecdotes, and insight, allowing him to captivate his audience and easily communicate the message at hand. Brad's energy is contagious, and he quickly builds rapport with all levels of staff. Our associates were equipped with practical, relevant tools which they could immediately put to use – and which have become an important part of our culture. Whether you want to infuse new life into your organization, or you need help instituting a cultural change, Brad has the experience and skills necessary to help realize your vision."
John Setterstrom, Former General Manager, Lucky Eagle Casino
"Brad Worthley recently spent a week on our property conducting leadership training for managers, strategic planning and a number of other sessions focused on exceeding customer expectations.  We have not been the same since. Talk about results. In my 20 plus years as a manager in Indian Country, I have never seen such a positive change in how my managers and staff see themselves and how they realize their behavior effects customer satisfaction. Our work with Brad Worthley is in preparation for a major expansion, the success of which is dependent on our achieving extraordinary levels of guest satisfaction. Brad has definitely sent us in the right direction and we will be bringing him back for more."
Bob Pokorney - General Manager, Shoshone Rose Casino
"Brad Worthley conducted an employee survey for us, guided strategic planning, rejuvenated our staff with his seminars "Exceeding Customer Expectations" and "Turning Managers Into Leaders," and provided executive coaching. Every session with Brad was stimulating and meaningful. He has left his mark on this organization."
Sandy Crowell, Former Training Manager, Nisqually Red Wind Casino
Highlights of the Course Curriculum (46 Minutes)
Module 1 (24 Minutes): Life is chaos, if you can't take of yourself then you cannot take care of others, how to reduce the chaos, recharge your batteries, the Sprint and Rest Method, change requires motivation.
Module 2 (22 Minutes): Things that can stimulate change, prioritize yourself - what is most important, 12 areas of life to keep in balance, why we get out of balance, things you can do to reduce stress now, plus celebrating the small victories.